TEAM ::: CAROLINA MUDCATS
LOCATION ::: ZEBULON, NORTH CAROLINA
MY FIRST VISIT ::: MAY 17, 2006
OPPONENT ::: TENNESSEE SMOKIES
LEVEL ::: SOUTHERN LEAGUE 'AA'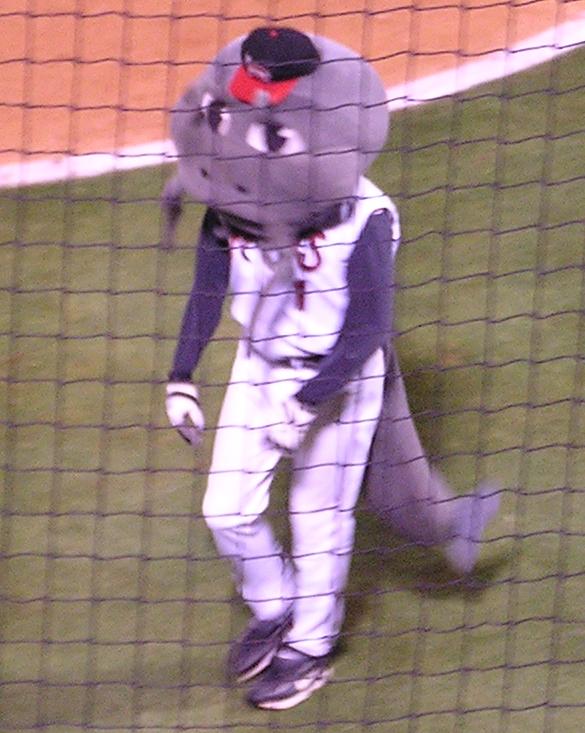 RATINGS
BALLFIELD ::: A
SCOREBOARD ::: A
FOOD ::: B
FACILITIES ::: A-
MASCOT ::: C+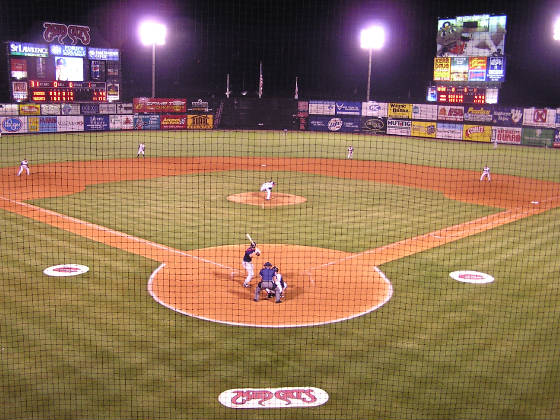 BACK IN 1991 ONE OF THE BEST SELLING LOGOS IN MINOR LEAGUE HISTORY BURST
ONTO THE SCENE. 15 YEARS LATER, I WAS FINALLY ABLE TO VISIT THAT LOGO'S
HOME.

FIVE COUNTY STADIUM IS LOCATED IN ZEBULON, NC WHICH IS REALLY IN THE
MIDDLE OF NOWHERE. THAT COULD BE SEEN AS A BAD THING BUT ONCE AT THE
PARK AND HEADED INSIDE, ITS REALLY NOT.

WHEN I FIND A PARK THAT LOOKS DIFFERENT I AM INTRIGUED. IT SEEMS LIKE
ALL I SEE ARE PARKS WITH A CONCOURSE WHICH GIVES A VIEW OF THE FIELD,
GREEN SEATS, AND OF COURSE BRICK. HERE IN ZEBULON, YOU CAN SEE THE FIELD
FROM THE CONCOURSE BUT IT IS ALL CONCRETE AND THE SEATS ARE RED.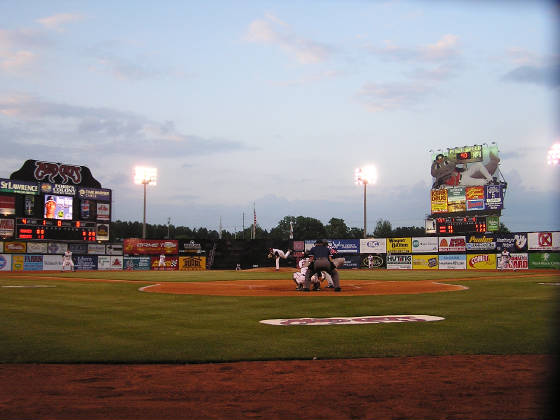 ENTER THE PARK ON FIELD LEVEL AND MAKE YOUR WAY TO THE GIFT SHOP. C'MON,
YOU NEED SOMETHING WITH THE LOGO ON IT. FROM THERE, TAKE A LOOK TO THE
"PREMIUM SEATS". THESE SEATS ARE SO CLOSE TO THE FIELD YOU MAY FEEL THE BREEZE OF A SWING AND A MISS. THERE ARE ONLY 4 ROWS OF THESE SEATS DOWN HERE AND THEY GIVE A GREAT PERSPECTIVE OF THE GAME.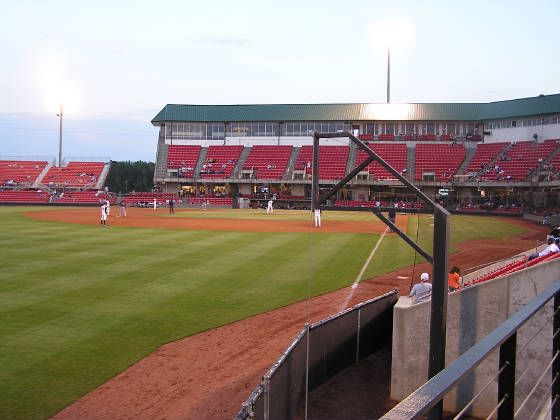 THE REST OF THE SEATS ARE LOCATED IN THE SECOND DECK. SORT OF LIKE A
REVERSE FENWAY PARK IN THAT DESIGN. WALKING UP THE STAIRS TO THE SECOND
DECK YOU WILL NOTICE THAT THE NET DOES NOT JUST PROTECT THE FANS BEHIND
HOME PLATE BUT ALL OF THE FANS. THE NET BEGINS IN SHORT LEFT FIELD AND
PROTECTS ALL OF THE SEATS ALL THE WAY AROUND TO THE RIGHT FIELD SIDE.
THIS LIMITS THE FOUL BALLS BUT REALLY MAKES A LOT OF SENSE TO ME. MINOR
LEAGUE BASEBALL IS SUPPOSED TO BE FAMILY FUN AND THAT FUN GETS RUINED
WHEN THAT LINE DRIVE VISITS THE SEATING AREA. I'VE OFTEN FELT FOUL BALLS
WERE OVERRATED AND HAVE BEEN LUCKY TO GET 2 IN MY LIFE, NEITHER WERE
CAUGHT ON THE FLY.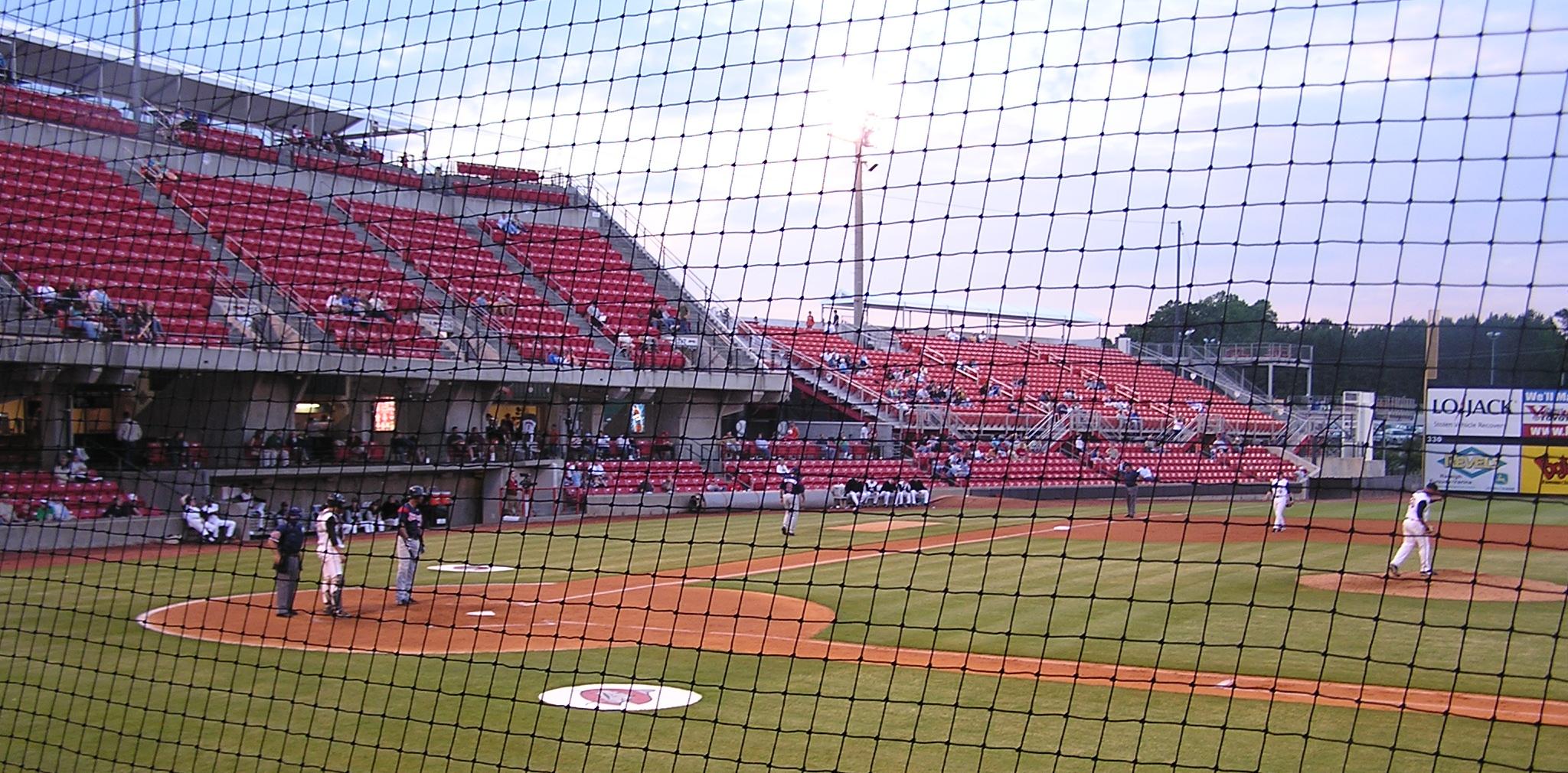 FIVE COUNTY STADIUM IS REALLY A GOOD PLACE TO SEE A GAME. THE FOOD ISN'T CHEAP AND THEY DO HIT YOU FOR $3 TO PARK ON A GRAVEL LOT. BUT, DUE TO
THE REMOTE LOCATION, IF YOU ENTER FROM THE TOWN OF ZEBULON, YOU JUST MAY
SEE A FEW GUYS JOGGING DOWN THE ROAD, NO DOUBT THEY ARE THE VISITING PITCHERS GETTING THEIR RUNNING IN. ONCE INSIDE, ENJOY THE PROTECTION OF BASEBALL BEHIND A NET AND LOOK FOR MUDDY THE MASCOT, TRY TO GET A
PICTURE OF THIS GUY, HE IS VERY FAST ON HIS FEET AND WHEN NOT ON THE FIELD, IS NOWHERE TO BE FOUND.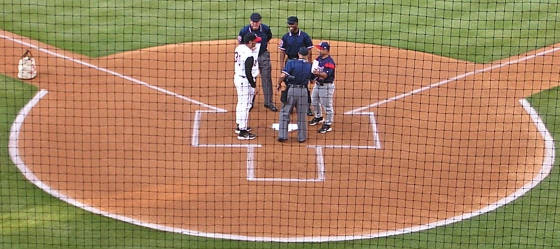 THE LINE UPS
TENNESSEE MANAGER :::
9 BILL PLUMMER
CAROLINA MANAGER :::
30 LUIS DORANTE
TENNESSEE SMOKIES

4 Danny Richar 2b
24 Jerry Gil cf
15 Miguel Montero c
26 Jamie D'Antona 1b
31 Agustin Murillo 3b
17 Phil Avlas lf
25 Steve Garrabrants rf
8 Alberto Gonzalez ss
35 Michah Owings p / LP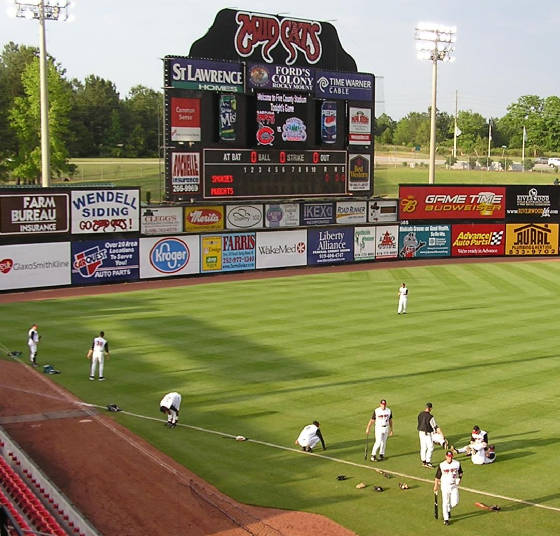 CAROLINA MUDCATS

9 Jose Campusano lf
8 Alejandro De Aza cf
13 Lee Mitchell 3b
23 Jonathan Aceves c
33 Angel Molina rf
21 Kevin Randel 2b
26 Rex Rundgren ss
12 Jamie Athas 1b
36 Adam Bostick p / WP
SMOKIES 003 010 000 4 11 0
MUDCATS 100 514 00x 11 18 1

TIME ::: 3:18
ATTENDANCE ::: 1,799
WEATHER ::: 65 PARTLY CLOUDY, COOL

SEND ME AN E-MAIL

LINKS
The Official web site of the Carolina Mudcats
Zebulon weather from WEATHER.com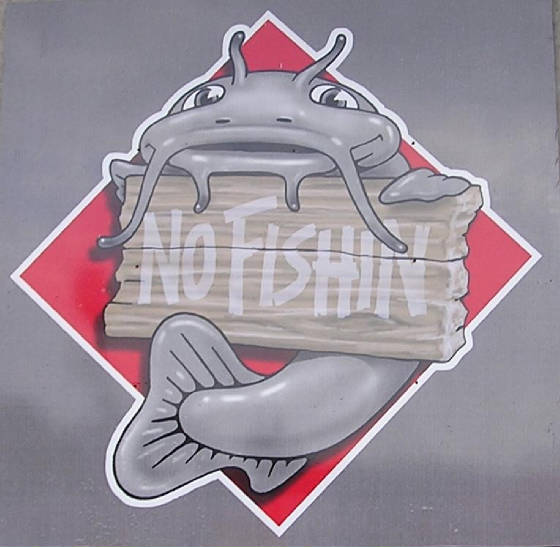 © 2000-2012 UNCLE BOB'S BALLPARKS
I AM IN NO WAY AFFILIATED WITH ANY OF THE TEAMS ON THIS PAGE ... THIS PAGE IS MEANT FOR INFORMATION PURPOSES ONLY